A GROUP OF EMPLOYEES AND STUDENTS OF THE FACULTY OF ECONOMICS AND MANAGEMENT OF SSU VISITED THE MARTYR'S FAMILY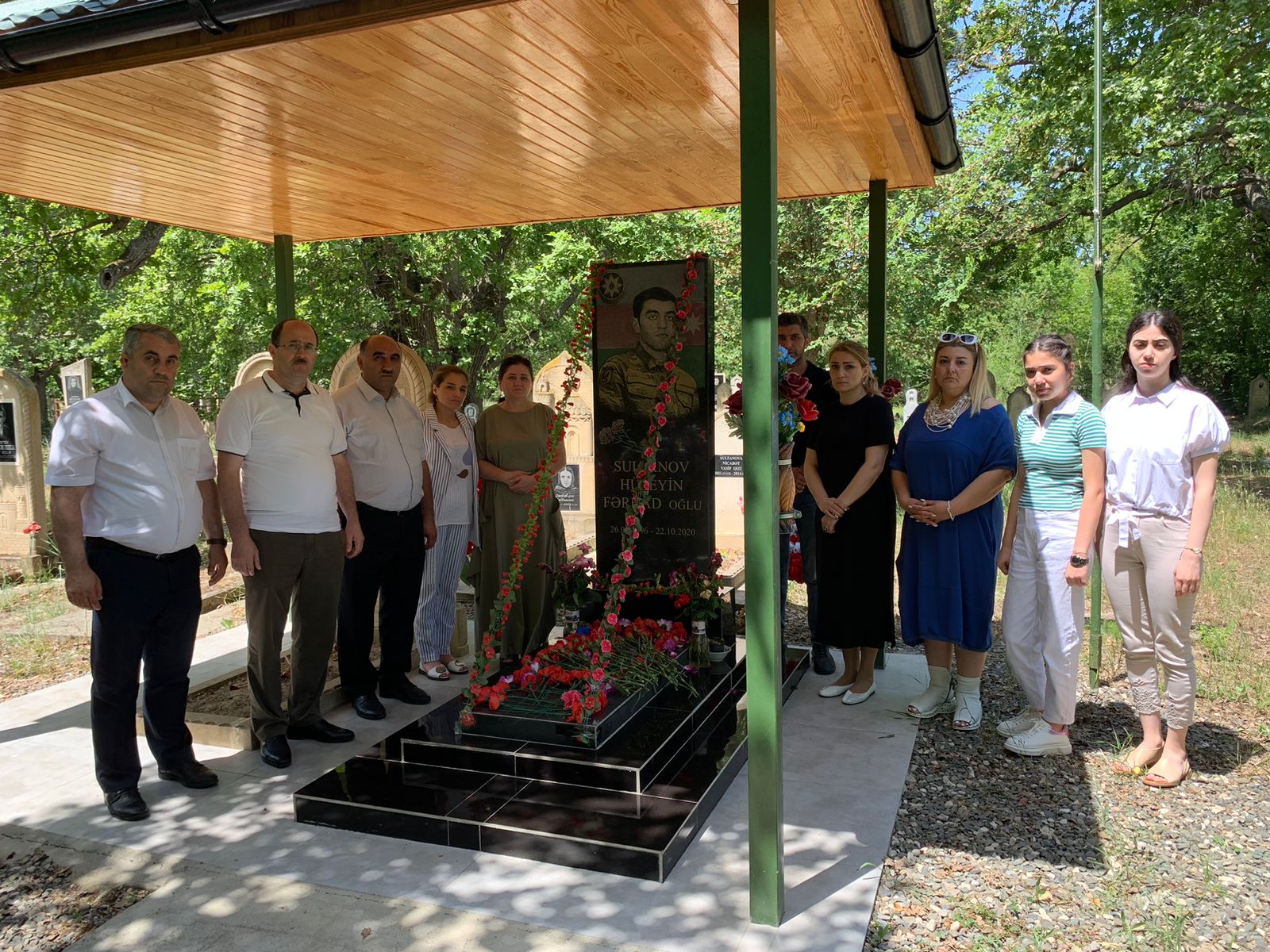 On June 4, a group of employees and students of the faculty of Economics and management visited the family of Huseyn Sultanov Farhad oglu, a hero of the 44-day Patriotic war, a martyred graduate of SSU, in Khachmaz district. The dean of the faculty, associate professor Aynura Yahyayeva, deputy deans Sadagat Aliyeva and Araz Mirzabayov, associate professor Logman Abdullayev, head of the department of Finance and Accounting, senior lecturer of that department Hijran Kocherli, laboratory assistants Gunay Panahova and Turkan Seyfullayeva, senior lecturer of the department of Economics Ilgar Osmanov and student group number 732 of the faculty Mehman Rzayev attended.
First, bunches of flowers were arranged on the martyr"s grave, his memory was remembered with respect.
During the visit, the martyr"s family talked about their memories of Huseyn, his dreams, patriotism, and attachment to his native land. They noted that Huseyn Sultanov, who went to the front on the basis of the mobilization call, joined the battles from the first days of the war and showed bravery.
Then the dean of the faculty, associate professor Aynura Yahyayeva, said that Huseyn and thousands of our martyrs like him wrote their names in golden letters in the memory of history in the battles for the Motherland,their bravery would live forever in the hearts of every Azerbaijani citizen. The dean also said that under the leadership of Sumgayit State University rector professor Elkhan Huseynov, and students regularly visit the families of martyrs and veterans, show respect and honor to them.
Later, other collegues of the faculty shared their memories of Huseyn Sultanov and said that he was a very modest, cultured, disciplined, hardworking student who took responsibility for his studies and actively participated in the social life of the faculty. They said that Huseyn was always chosen from other students due to his devotion to the motherland. They emphasized that his short but very meaningful and honorable life path is an example for future generations.
It should be noted that Huseyn Sultanov Farhad oglu was born on April 6, 1992 in Hajigurbanoba village of Khachmaz. He showed bravery in the liberation of our lands from occupation during the Patriotic war and participated in the battles for the liberation of Fuzuli, Jabrayil and Khojavend. He was martyred in the battles for the liberation of Duduklu village of Khojavend on October 21, 2020. According to the relevant decrees of the President of the Republic of Azerbaijan Mr. Ilham Aliyev, he was awarded the medals "For the motherland", "For distinction in battle", "For the liberation of Fuzuli", "For the liberation of Khojavend".
TRANSLATION: LANGUAGE AND TRANSLATION CENTER