A student-youth club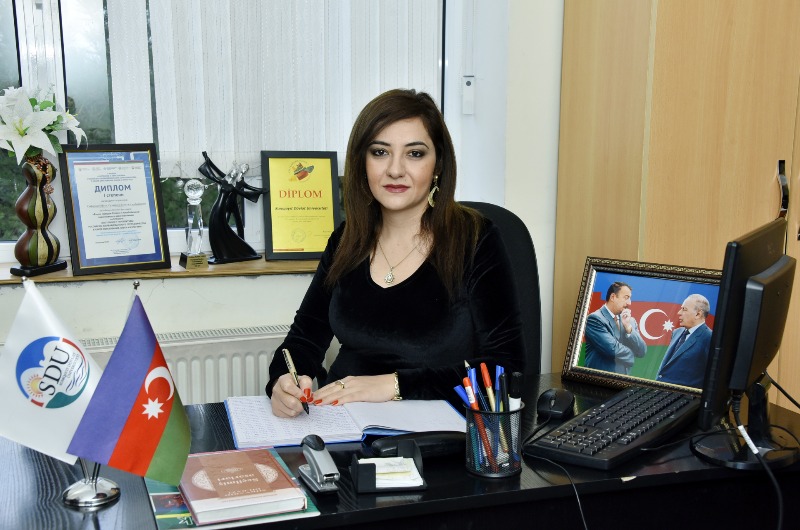 The student and youth club has been functioning since 2000 at Sumgayit State University. The head of the club is Khalida Panah gizi Guliyeva since 2015. Since its establishment the staff of this club has taken an active part in organization of cultural - mass events, notable, significant days with great pleasure. Employees of club were awarded a number of diplomas and presents.
"Sama" dance group of university was awarded III place on nomination of National dances in "Student spring" IX, X and XI Republican Student Creativity festival organized by Youth and Sports Ministry of Azerbaijan Republic in 2016, 2017 and 2018. The dance group awarded II place on National dances in competition of artistic amateur collectives of university students, dedicated to 95th anniversary of national leader Heydar Aliyev organized by Education Ministry and Free Trade Union; in 2019 III place in the same contest dedicated to 96th anniversary of Heydar Aliyev (Art director-Gulnara Abbasova).
"Renaissance" drama circle was arranged by talented students of SSU in 2000. The repertoire of the student theatre is based on the works by Azerbaijan writers, dramatists and poets. M.F.Akhundov's "Misyo Jordan and Dervish Masteli Shah" work was successful staged by this dramatic circle in 2015.
The "Student" music circle of SSU has been functioning since 2000. This circle performs at the public events, festivities of Sumgayit State University several times. We should stress that this ensemble performed great concerts at nursing home and at the boarding school number 7 for mentally and physically disabled children.
The chorus group functioning under the guidance of Zaur Safarov gained the III place in the creativity festival dedicated to the 93rd anniversary of Heydar Aliyev in 2016 and II place in the same contest, dedicated to 96th anniversary of national leader Heydar Aliyev. Ramaya Mustafayeva was awarded II place, Aliya Alizade III place on poetry reading in the contest. Zaur Safarov also composed music for the anthem of Sumgayit State University (lyrics written by journalist Avtandil Aghbaba).
"Subaylar" team of Cheerful and Witty Club, which was established in amateur circle, has been functioning since 2018. Our team was awarded diploma and I place in 1/8 and 1/2 final stage of TV League of Azerbaijan Regional Cheerful and Witty Club held among higher education institutions in 2018-2019 academic year by organization of Education Ministry under guidance of artistic director of club Majid Huseynov.
According to Order of President of Azerbaijan Republic Ilham Aliyev dated January 11, 2019 was declared "Year of Nasimi". Our student Aliyar Rafiyev was awarded III place and diploma in poetry reading "Husnu-camal, agli kamal" dedicated to 650th anniversary of Imadeddin Nasimi.
Circle of painting and decorative arts has been functioning for several years. Paintings and decorative art samples of circle members are demonstrated in various events, interesting exhibitions are organized.