Our history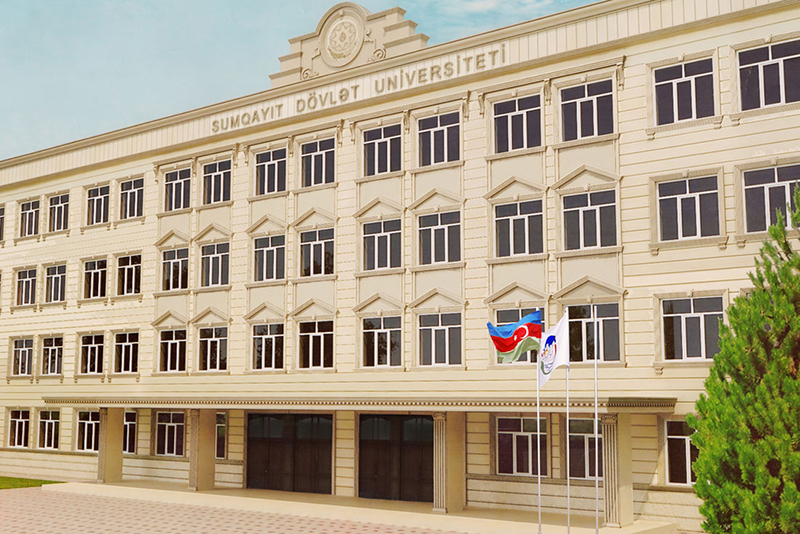 National leader Heydar Aliyev said: "Education is a significant field of every country and society. Society cannot develop without education." These thoughts are addressed to bright future of Azerbaijan. Higher education institutions bear great responsibility in ensuring this future, determining and realizing main perspectives of advancement of Azerbaijani education. Sumgayit State University has special place and role in carrying out the tasks, like all universities of the Republic. Sumgayit State University, which was founded in 1962, makes great strides by benefiting from leading international experience, achievements of national education system and its 60-year traditions.
Sumgayit State University was established on the base of Azerbaijan Industrial Institute by the Order of Heydar Aliyev dated June 13, 2000 about "Improvement of education system in the Republic of Azerbaijan". New development stage was launched in socio-cultural life of Sumgayit from that day. After this Order, important revival began in science and education centers of the city, perspectives of development dynamics in new directions were determined. Establishment of relations with scientific-research institutes, as well as vocational institutions – colleges, art and music schools in Sumgayit gave impetus to improvement of science, education and culture.
Universities are recognized with their reputation. Reconstruction and renovation, carried out at SSU, have changed its appearance completely. Instituted teaching and scientific-research laboratories, newly set up "smart boards" in auditoria, connection of university to internet network, establishment of Heydar Aliyev Center, expansion of international relations reflect the view of the university. SSU has been the member of State Universities Association of Caspian countries since 2014 and the member of Association of Azerbaijani-Russian universities since 2015. Azerbaijani co-chairman of the Association is Rector of Sumgayit State University Professor Elkhan Huseynov. Innovative training methods and effective usage of technologies are among main terms in raising education quality; integration into international education arena is important for modernizing education system of university. In this regard, SSU is interested in experience exchange and conducts it. The university has joined to Bologna education system, which is joined by most of European countries and has passed to credit system since 2007-2008 academic year. This system is successfully applied in correspondent department.
Purposeful and consecutive state policy stands on the base of gained achievements. Care and attention of President Ilham Aliyev to development of science and education, as well as his political course determined in the direction of "Converting oil capital to human capital" give its results in all parts of the country. Substantial orders and decrees have been signed by the President. Among them "State Strategy on education progress in the Republic of Azerbaijan" (2013) and "Action plan on realization of the Strategy" (2015) approved by President I.H.Aliyev are of great importance. Wide-range strategic directions of establishing leading Azerbaijani
education system compatible with international standards were determined. Renovating education structure, improving distant education, creating more effective management mechanism, adapting human resources to modern demands and other strategic targets are set as a task for all state and private higher education institutions functioning in Azerbaijan.
After cancellation of several branches of Azerbaijan Teachers' Institute in 2015, the students of its Sumgayit and Salyan branches were accepted to SSU, as well as lecturers and technical staff were employed at the university through competition.
Afilliation of Sumgayit State Technical College with SSU is one of components of "Action plan".
7 faculties (Mathematics, Physics and Electroenergetics, Engineering, Chemistry and Biology, History and Geography, Economics and Management, Philology), 29 departments, 6 scientific-research laboratories, Linguistic Center, Teaching Methodical Center, Doctorate and Master Programs Office, Science Office, Foreign Students Office and other bodies are functioning in Sumgayit State University. Specialist preparation is carried out on the programs of PhD and Doctor of sciences.
Institution of Dissertation Council on specialties of 3337.01-Information measurement and management systems (on fields) and 3303.01-Chemical technology and engineering is a sample of state care and attention to young PhD candidates.
We can proudly say that our Republic has extensive material-intellectual resources for growth of education and science. Effective use of these resources is one of the priority directions determined by the President. Professor-teaching staff of the university is working with fidelity to Azerbaijanism, the country and the nation for prosper of the homeland. Our university has become one of the prestigious universities by following this policy.