A MEETING WAS HELD AT THE INCLUSIVE EDUCATION CENTER OF SSU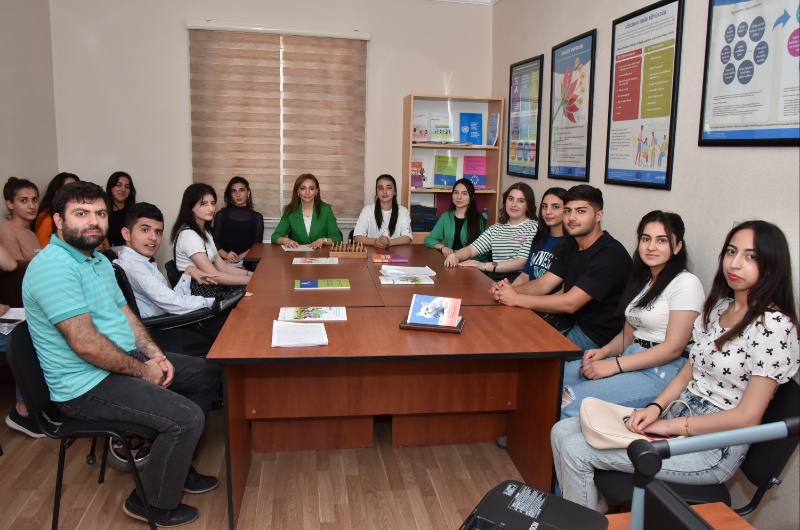 On June 1, the next meeting for students with limited health opportunities was held at the Inclusive Education Center of Sumgayit State University.
The head of the Center for Inclusive Education, associate professor Aytekin Mammadova, opened the event, greeted the participants and talked about the importance of the meeting. She talked about the activities carried out by UNICEF to improve the condition of children all over the world, and highly appreciated the work for ensuring children"s well-being, health and education. She noted that today, in general, if we talk about education, the young generation, our children, it means, we speak about the future of our country. Because these children will ensure the tomorrow and the future of Azerbaijan. Today, with the initiatives of the country"s president, Mr. Ilham Aliyev, and First vice-president Mehriban Aliyeva, the measures in the field of protection of children"s rights in Azerbaijan is unprecedented. Thus, implementing of the "State Program for the Development of Inclusive Education for persons with disabilities in the Republic of Azerbaijan in 2018-2024", approved by the Decree of the President Mr. Ilham Aliyev dated December 14, 2017, was a clear proof of this. In this direction, special conditions were created and a special center was organized for students with limited physical abilities at Sumgayit State University.
Associate professor Aytekin Mammadova reminded that during the meeting with the students with limited health opportunities, we always supported them for their successful education and pointed out that the meeting before the exam would be useful not only for the students, but also for the employees of the center.
Then the questions of students with limited health opportunities were answered.
It should be noted that Sumgayit State University considered providing development opportunities and conditions for students with limited physical abilities, as well as their integration into education, as an important direction of its activities.
TRANSLATION: LANGUAGE AND TRANSLATION CENTER